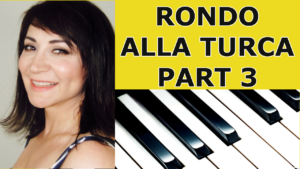 Hi Everyone!
When I made the first two tutorial videos for Rondo Alla Turca, I had no idea how many requests I would get for Part 3 and Part 4! And, something tells me that after Part 4 is up, my wonderful viewers will be asking for the rest of the piece, as well. So, my plan is to eventually put up tutorials for the whole thing.
Here is Part 3, which, in the original version, has the right hand playing quick octave passages. This is technically challenging for everyone, not to mention impossible for people with smaller hands. So, I wanted to make it accessible for everyone who was interested in learning to play it.
In this video, I show you how to play Mozart's version, because it is awesome! I also made a modified version for people with smaller hands, or those whose technique is not yet at the level where they can realistically handle the octaves. Both of these versions are on the same video.
As always, I have included the time codes that link to specific sections of the tutorial. They are in the information box directly beneath the video. I like to split up the tutorial into "parts" because it is easier to learn pieces in small sections. If these parts are too long for you, I encourage you to just pause the video wherever you choose and make sections that are the length that you are comfortable with.
Remember to practice slowly and keep your arms and wrists as relaxed as possible. Work on your piano playing a little bit every day for the best results! Let me know if you have any questions or suggestions!